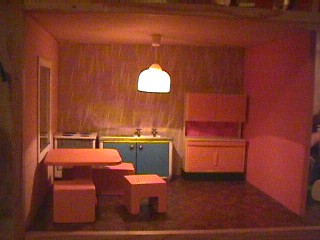 Dolls' houses fascinate me, as well as Barbie dolls, paper dolls etc. I will add new pics of my small collection here from time to time. I belong to two very active Finnish discussion groups about dolls, called Nuket (Dolls) and Muotinuket-Fashiondolls. I warmly recommend such groups for all doll and dollhouse lovers.

Some links:
PienenPieni, a Finnish online store for miniatures. Also my books are for sale here.
My Xmas 2006 roombox

DIY instructions, texts in Finnish & English:
Miniature roses out of paper
Miniature ring in a tiny case
Minikaavoituksen alkeet (in Finnish only)
Furniture prints by Jorma Havia

My sister-in-law gave me her doll's house from the 70ies and I renovated it a bit. Images on flickr, more will hopefully be added sometime.