My sister-in-law Kristiina gave me her old doll's house from the 70ies. It is a commercial house, though the maker is unknown to me (no labels).
Renovation diary
Jan 11-12: Started the work. Built and papered the missing inner walls (pics will appear later) and started making the the windows.
Jan 15: Finished all window frames and handles (tough work!). Kitchen ventilation window opens nicely! Lesson learned: try and make the frame widths match inside and outside, so that the view from the other side (whichever that may be) is nicer.
Jan 25-26: Renovated an old Lundby kitchen unit. So slow! Now I also decided to move all my pics to flickr. It's much faster than the Java image viewer I had, and you can see bigger pics there...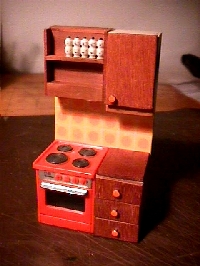 The unit had no drawers and no closet door. I made the knobs by cutting off the flat ends of ordinary nails and painting them with acrylic paint, to make them look more plastic.